Well its's another strange Easter in the world today.
Like last Easter, here in Ontario we are in lock-down and we're only allowed to have the immediate family with us to celebrate.
This is the day we traditionally also celebrate our son Sean's birthday and little Juliette's' s birthday. But, for the second year in a row there is no friends, no additional family and no Warriors to share this day with. Instead of mourning the loss of celebration, we spent the morning on the phone chatting with family from Canada, the USA and Italy, and we still had our dinner and cake, just celebrating this holiday more quietly.
Choosing to do something different for the holiday, we decided instead of dying eggs this year, we potted the new plants that Karen (my daughter-in-law) and I chose for the new garden, which I've been growing from seeds.
This new planting project has turned our house into our own little vegetable grow-op with the weekly seed planting. The seedling have now taken over the grow station, the front window and the top of the frig. If the warm weather continues, I'll be able to move them onto the sunporch soon as their numbers keep increasing and I'm running out of places to put them.
This early warm weather has been a gift from Mother Nature, who brought us an early Spring. The problem with an early Spring is, it's making the fur babies shed all over the house. This kept Daddy busy this morning giving the fur babies their baths. And, as we said to Juliette who reluctantly stepped into the bath, she must look pretty and smell good for her third birthday, which of course she pulled off well.
The early Spring, besides bring an uplift in spirts, has also allowed our neighbors to move back into the cottages early. Husband has already been up helping the neighbor get his water open and a new water lines in, making one of the three cottages up and functioning. The second construction will start next weekend when we start working on the new kitchen in Julie and Gary's place.
As for us we are excited to say we are joining many of our neighbors who have opened up early. This time next weekend we will be at the cottage enjoying being opening. I'm excited to share with Christina and Nelson their first cottage weekend and am looking forward to getting back to garden planning.
The packing and shopping for this years projects is long on its way and with it came some very interesting and challenging times to get the needed materials. But I'm happy to say, with many hours to find the smallest of items, many of which had to be ordered on line and many we waited months, yes months for delivery, but we're going to be able to get started as planned.
I'm also quiet excited to see the Crocus that I planted last Fall, as my neighbors tell me they have started to pop their heads up from the ground. A double bonus for all of us at the cottages to be able to enjoy some Spring flowers.
But, the thing I'm most excited for this year besides the time with Karen and the other Warriors in the garden and on the deck, is when we actually get to sit in the new enclosed porch. This is our main project to get this finished this year and I am looking forward to having the mosquitos locked on the other side of the door. Good-bye to Mr. and Mrs. Mosquito.
Each year the Love Shack has given us another addition to our lives. This year it is the vegetable gardens which I will share with my neighbor's, the Warriors, and with my daughter-in-law Karen, who has made a promise to share the work load of the garden with me and also the joy of the bounties received from it.
In the crazy world we are living in, we are still blessed. If someone would have told me six years ago that our world would change so much and have so much added to it by buying a cottage that looked like it had no hope and needed more love than one could ever imagine, I would have been a disbeliever and yet here we are.
I'm hoping that this Spring and Easter are the beginning of new blessings and new beginnings for everyone.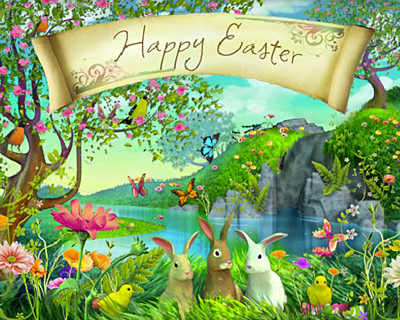 Easter blessing to each of you. May this Easter and Spring be the being of something new.