We're heading into Thanksgiving and following that meal comes to my favorite part of the dinner… The leftovers…
Here's one of my favorite recipes from  The Cottage Cookbook. You can make this recipe with turkey or chicken.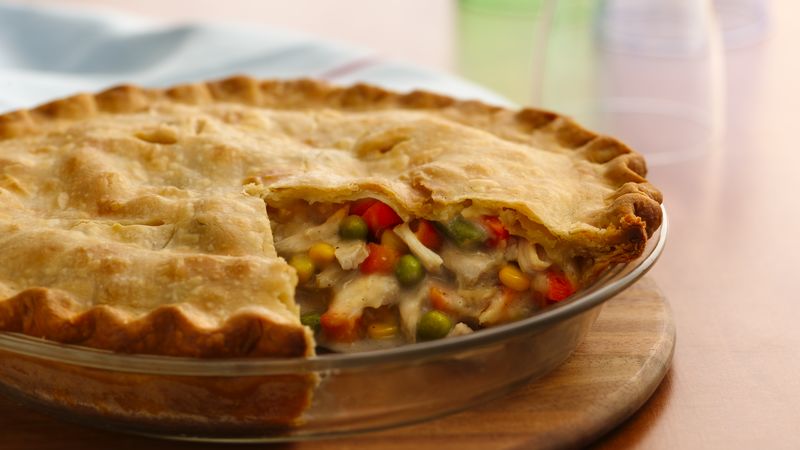 Turkey Pot Pie
Ingredients:
2 cups skinless, boneless chicken or turkey – cubed
1 cup diced carrots
3/4 cup frozen green peas
1/2 cup sliced celery
3/4 cup of frozen corn
1/3 cup butter
1 medium yellow chopped onion
2 tbsp corn starch
1/2 teaspoon salt
1/4 teaspoon black pepper
1 3/4 cups low sodium chicken broth
2/3 cup milk
2 (9 inch) unbaked pie crusts
Directions:
Preheat oven to 425 Degrees Freight height
In a saucepan, combine chicken, carrots, peas, corn, and celery. Add water to cover and boil for 15 minutes. Remove from heat, drain and set aside.
In a frying pan, over medium heat, cook onions in butter until they are translucent. Stir in cornstarch, salt, and pepper. Slowly stir in chicken broth and milk. Simmer over low heat until thick. Remove from heat and set aside.
Place the chicken mixture in the bottom pie crust. Pour hot liquid mixture over. Cover with the top crust and seal the edges and cutting away the excess dough. Poke the top several times with a fork to allow steam to escape.
Bake for 30 to 35 minutes, or until pastry is golden brown. Let rest for 10 minutes before serving.
To make this a gluten-free dinner, switch the pie crust for a gluten-free crust. 
PS: I couldn't wait for the leftover turkey and made it today by roasting a turkey breast in the crockpot.