I'm siting here watching the Snow Storm that has started in Southern Ontario. Today forecast is predicting four to six inches of snow. I do that with a smile on my face, and a big sigh of relief.
You see, yesterday we drove back from the Mountains. It was sunny, warm and the roads were clear.
What we were doing in the Mountains? Snow Boarding.
Back in early Fall, my daughter in-law and I set out on a plot. It started out with the Christmas is coming and what do you guys need or want for Christmas?  The usual answer came for both sides of that conversation. We really don't need anything.
The conversation ended with a new TV for us from the kids, for the Love Shack, and a family boarding trip for the kids, from us. Along the path of the conversations, it started with a boarding lesson for our grandson, Lennon, and ended up a Weekend at the Mountain.
There's a history here.
For many years, we spent most Winter Weekends with the kids in lessons or family trips. The Mountains were a big part of our lives. As everyone got older and careers took over, the family freedom, along with those trips got down to a few times a year and then, to a trip every few years.
With Lennon being ten years old, he was missing something that was a very large part of our lives, and our lives were missing something that was pure family time. So, me being me, said it's time for Lennon to learn to board and get this family back on the hills.
Organizing it fell into my department. The trip was booked. Lennon's lesson was schedules. Romeos care givers were scheduled. The grocery shopping was shared by Karen and I, and the packing was done by all.
We arrived on Friday at supper time, got unpacked and ordered the most expensive pizza I have ever seen. Six personal pizza's came to $132.00. Good thing we had gotten a town house with 3 beds, two bathroom and a full kitchen. I would say the price in the restaurants at mountain have gone up astronomically since our last trip 5 years ago.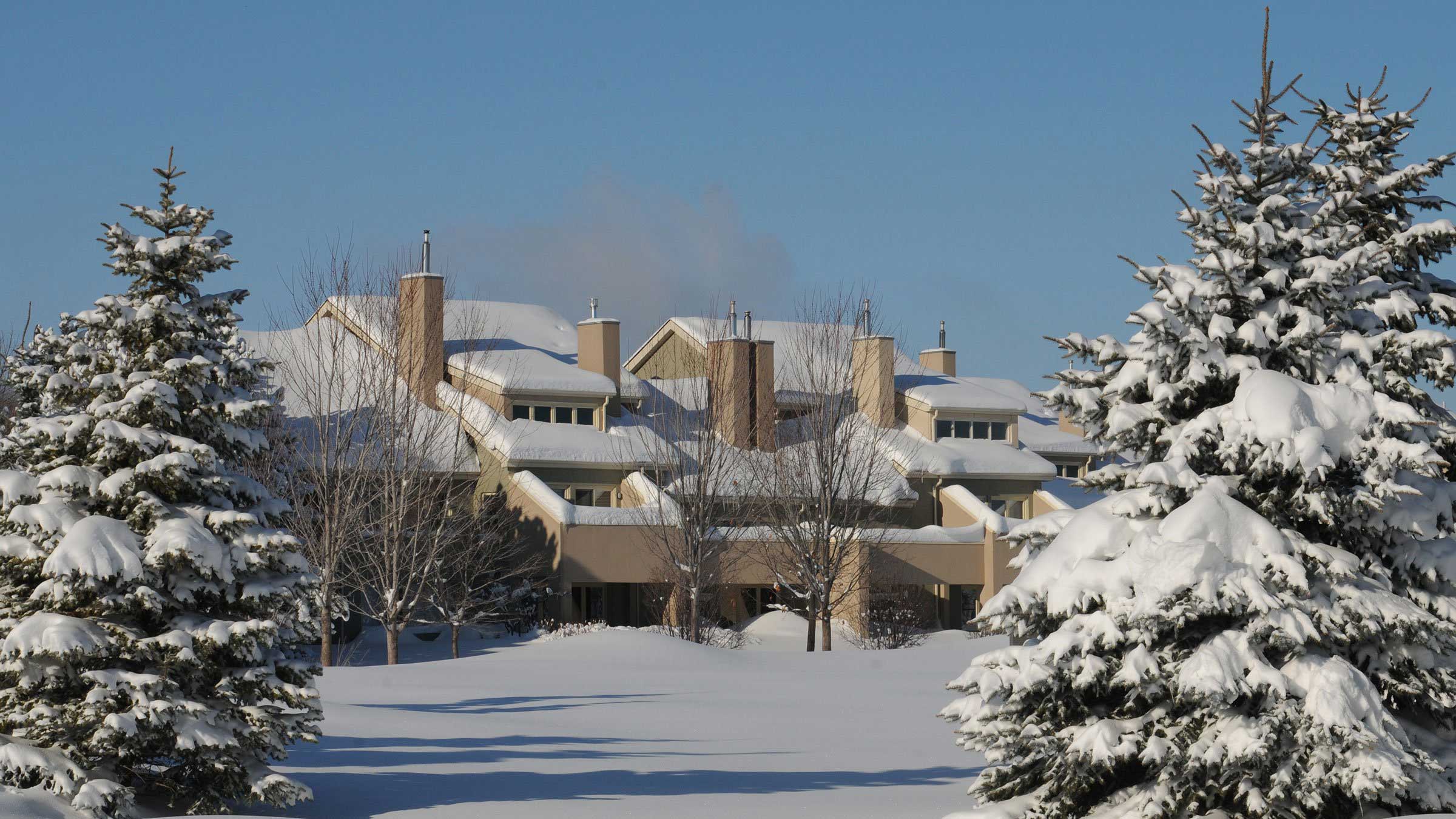 We stayed at the Winter Green in Blue Mountain.  This is the web site for the lovely town house it rented for the weekend. https://www.bluemountain.ca/plan-your-trip/lodging/wintergreen
I went out at dark to shoot a few pictures of the hills lite up at night.
After dinner, the family all put on jammies and crashed in front of the fire to watching TV.  We called it an early night.
Being an experiences Ski Mom, I knew what the day was going to be like, and I had a daughter-in-law to teach the ropes to.
Karen and I were up at seven to start breakfast. With the family fed and dishes done. It was time to get everyone dressed up in the gear.
With the guys sent off, it was time to get Lennon off to his first lesson.
Lennon got dropped off and Karen came back to met up with me. Once Lennon started his lesson, Karen and I, came back to watch him. Of course we didn't want him to know we were there. We figured we would make him nervous.
We shot a couple of pictures before he knew we were there.
Now comes the funny part, did you ever watch a mom and grama when the child does something good. Here is where I confess to Karen getting teared up and OK, grama too. I'm sure the guy sitting behind us laughed as Karen and I high-fived over the excitement of watching him come down the hill.  I'm still not sure who was more excited, Karen and I to have him love it, or him to love it.
After lessons and some food, we sent the guys off to teach Lennon more boarding skills.
So where are Karen and I at this time? Behind them with the cameras.
I wasn't able to ski this year. I need surgery in my shoulder and the doctor did not recommend a fall. I missed the hill and the feeling of coming down the hill. This is my first time in thirty years of being at the hill, that I wasn't on it. That being said, Karen and I kept busy.
We followed them around, collecting Lennon and feeding him.  We warmed him back up, re-dressing him and sending him back out.
When we weren't doing that. We got dinner in the crock pot and had time to slip into a few of the shops.
With a good day of boarding in, the roast was ready for dinner. The wine was chilled and served. Dinner was followed by a key-lime cheese cake made by yours truly.  Then, everyone was back in jammies in front of the fire.
It didn't take long for the crew to be in bed and out cold.
Mom was the last one up, as usual. The kitchen was back in place and there was sounds of sleeping coming for all the rooms. Very familiar sounds to me. This weekend reminded me of so many memories of being on the hill.
This Christmas present that we got for the kids, turned into a Christmas present for me too.
I look forward to teaching Karen all the tricks of being a ski/boarder mom. There is no doubt, she is up to the challenge.
Sean and Enrico are planning on getting Lennon out to the local ski hill a few more times this Winter to get ready for next year. Because, next year, after my shoulder has healed, this thirty year skier, has agreed to learn to board, with her daughter in-law by her side.
It's time to take back those Winter Vacations. They will be a little different then when we started thirty years ago. It seems my boarders got a little older and aren't as die-hard as they once were. Nor are they in as good of shape as they were. That required more rest periods. Which also gave more time for conversation.
The conversation has also changed. It seems the little ones have grown up and now there is another little one in the group.
PS: The snow is coming down pretty good now. Some how the snow doesn't seem like a bad thing. It just brought back a smile and another memory. Snow, in skier/snowboarder language, is called, Fresh Powder.
I guess, you can guess what next years Christmas Present is going to be. We have already planned to meet, back on the Mountain.